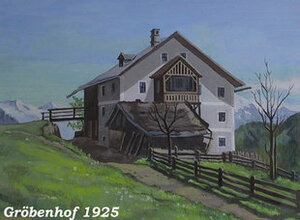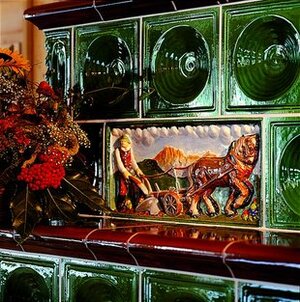 Gröbenhof, an idyllic spot in the heart of Stubai Valley.
The history of Gröbenhof goes back to the turn of the previous century. In 1905, Jakob Knaus purchased the original farmhouse and adjacent fields and forest. His youngest son, Friedrich Knaus, took over the running of the farm in 1952, together with his wife, Antonia. In 1967, they started serving simple meals and snacks in the small rustic dining room and on the sun patio, prepared with fresh ingredients from their own farm. The family and the barn moved to a new location about 150m down the road in 1978, and an addition was built onto the old farmhouse with a modern kitchen, a new dining room, and several guest bedrooms. Friedrich and Antonia's three daughters Rosi, Burgi, and Lisi were now in charge of cooking and service. The menu was continuously expanded over the years to include more Austrian and international items. Lisi and her husband Roland took over ownership of the restaurant in 1994, and are still running it today. The main building was completely renovated in 1999. After the renovations, the rustic Country Dining Room was reinstalled in its original condition, while the other dining rooms were modernized and redecorated. Comfortable guest rooms were also added on the upper floors of the building.
We serve our guests a wide selection of traditional, regional, and international dishes. Careful, tasty preparation and the freshness of all our ingredients are particularly important to us. We believe in buying from our region whenever possible, and source many of our ingredients from local farmers. We see ourselves as ambassadors of traditional Tyrolean hospitality as represented by the initiative Tiroler Wirtshauskultur, and look forward to continuing this tradition in the future.